Welcome to our world.
Our shops are the perfect place in which to immerse yourself in the enchanting world of the Erzgebirge, revisit the idyllic world of your childhood and dream to your heart's content.
Charming little angels, majestic nutcrackers, good-natured incense smokers and much more: thousands of Erzgebirge originals welcome you in Seiffen, Chemnitz, Schneeberg, Berlin and Potsdam!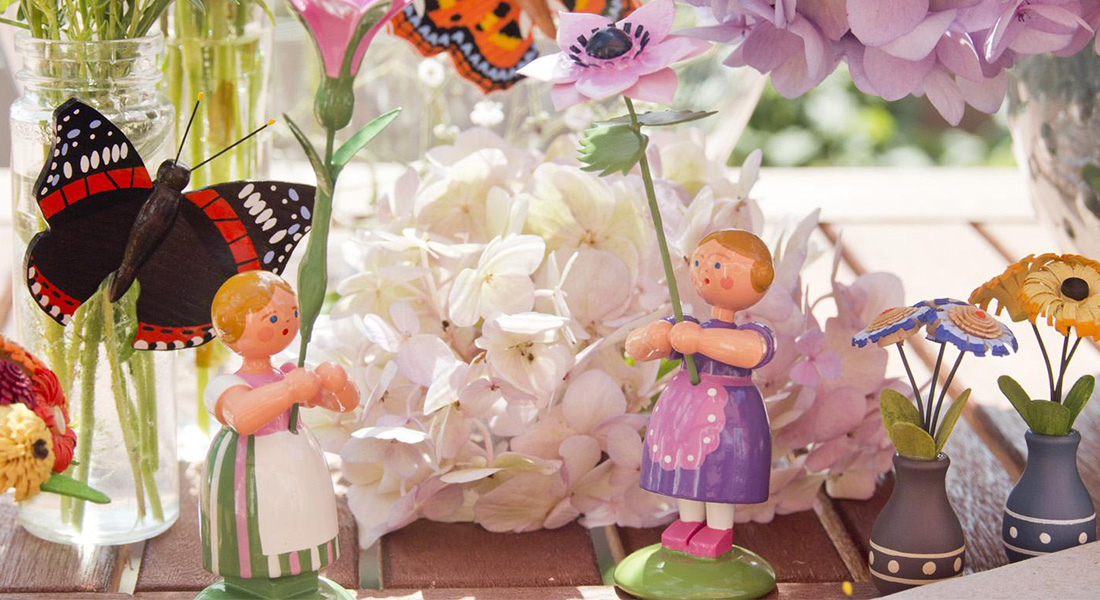 Impressions from our shops

Entfliehen Sie dem Alltag in unserem Café Spielzeugschachtel mit Köstlichkeiten und erzgebirgischem Charme
Sie haben einen erlebnisreichen Tag hinter sich, waren einkaufen und haben das Spielzeugdorf ausgiebig erkundet? Dann lehnen Sie sich jetzt entspannt zurück – in unserem Café & Restaurant Spielzeugschachtel, eine Etage über dem gleichnamigen Fachgeschäft.

Ausgesuchte Kaffeespezialitäten, ein abwechslungsreiches Kuchenbuffet und nicht zuletzt die Eiskarte warten darauf, von Ihnen entdeckt zu werden.

Stilecht erzgebirgisch und gemütlich eingerichtet, verführt die Spielzeugschachtel auch zum Ausprobieren traditionell erzgebirgischer Gerichte. Aber auch als Liebhaber deftiger oder leichter Speisen kommen Sie hier auf Ihre Kosten.

Unsere Räumlichkeiten bieten viel Platz und Möglichkeiten für jegliche Art von Anlässen. Bei längeren Abendveranstaltungen haben wir für Sie auch länger geöffnet.
Auf einem Blick:
Restaurant mit 55 Sitzplätzen
Restaurant mit 55 Sitzplätzen
Restaurant mit 55 Sitzplätzen
Restaurant mit 55 Sitzplätzen
Restaurant mit 55 Sitzplätzen
Spezialitäten der Speisekarte:
Hausgemachte Sülze mit Bratkartoffeln
Hausgemachte Sülze mit Bratkartoffeln
Hausgemachte Sülze mit Bratkartoffeln
Hausgemachte Sülze mit Bratkartoffeln
Hausgemachte Sülze mit Bratkartoffeln
Öffnungszeiten
Mo-So: 10.00 - 17.00 Uhr
längere Öffnungszeiten nach vereinbarung